91-Year-Old Cancer Patient Spends His Last Days Knitting Over 8,000 Hats for Homeless in Hospice
If you were told that you have cancer and have to lie in bed every day, will you spend every waking moment overwhelmed with sorrow and secluded from everything? Instead of doing that, a terminally ill 91-year-old man has knitted over 8,000 hats over the past 15 years for the homeless.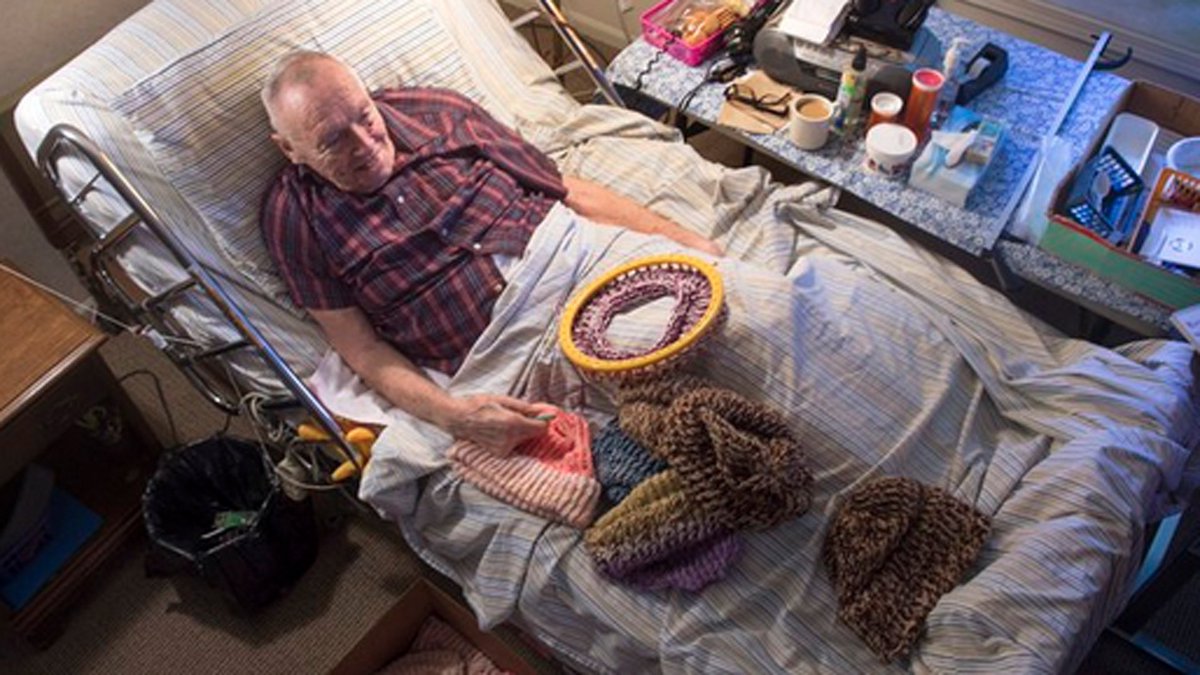 Known as the "Hat Man," Morrie Boogart was taken to Cambridge Manor hospice care in Grandville, Michigan, in 2017 for skin cancer. Both the illness and his age limited his mobility, forcing him to stay in bed all day, every day.
Unlike most bedridden patients, Boogart found something that gave him "a sense of purpose," his daughter Karen said. From the moment he woke up in the morning, he would reach for the yarn and begin his daily routine of knitting hats. With a couple of small intermittent food breaks, Boogart would knit until he went to bed at night.
"Why do I do it? It just makes me feel good," said Boogart to CNN affiliate WXMI. 
His tribulation inspired sympathy for other misfortunes in the world, and for the homeless in particular. In the winter, when he was warm in bed, the homeless were left out on the streets, forced to bear the bitterness of a wintry night. He decided to devote all of his time and effort into knitting hats for them in hopes that they would be spared from some of the chill.
Boogart did what he could to make life easier for the less fortunate, even if it was something as small as adding a "rim" at the bottom of the hats to keep the ears of the homeless warm.
Boogart's yarn supply took over most of the space in his room, with boxes upon boxes stacked up against the wall. Visitors and people from the community began to donate yarn to his project after hearing about it. Then, word got out on social media, and people on the internet from around the world sent him yarn, and also letters commending his kindness.
On holidays, and even on his birthday, he would only ask for one thing as his gift: yarn.
Boogart's daughter Karen helped to get the products of the one-man "factory" to market. He would create a label and box the hats to be shipped to their destination, and Karen would pick them up and personally deliver them. The hats went to shelters and organizations such as Mel Trotter and Salvation Army in the Grand Rapids, Michigan, area.
The governor of Michigan, Rick Snyder, was so touched by this that he personally wrote and signed a letter to be mailed to Boogart.
The productive "Hat Man" was very content with his life and wanted nothing else but to keep knitting. Although he didn't knit as quickly as he had prior to being placed in a hospice, he still managed to complete 1 or 2 hats per day. He said, "I'm going to do this until I go home to the Lord."
"If you take this [knitting hats] away from me, my life is over," Boogart said to local news WZZM13. "Please don't take it away."
Sadly, around a year later, Boogart was finally taken from us by the disease. Boogart spent his life giving to the homeless, and he received much love by others in return. Spreading compassion and giving love can take many forms; trying to give a little each day will make the world a lovely place.
When parents, aunts, uncles, and grandparents reach an age when they can no longer care for themselves, it might be time to start looking for additional help. Maybe they can't get around as well as they used to. Perhaps they were recently hospitalized, or they experienced a sudden and drastic decline in their health.